Explore the Older Beijing in Shichahai
While in Beijing, Shichahai should not be missed.
Shichahai is within the 2nd Ring in the north west corner. In 13th century Yuan Dynasty, it was an open water. However in the beginning of Ming Dynasty the basin evolved into the 3 reservoirs West Lake, Back Sea, and Front Sea. Due to its remarkable scenery, and proximity to the palace, nobles frequented the region. They built residences and gardens, some of which are well preserved to present day, and are also known for being the sites of best preserved folk customs in Beijing.
Best time to visit:
Every season has its distinct appeal: lotus in the summer, skating in the winter, with lots cultural charms throughout the year. Overall, travel during cool and breezy September and October is recommended.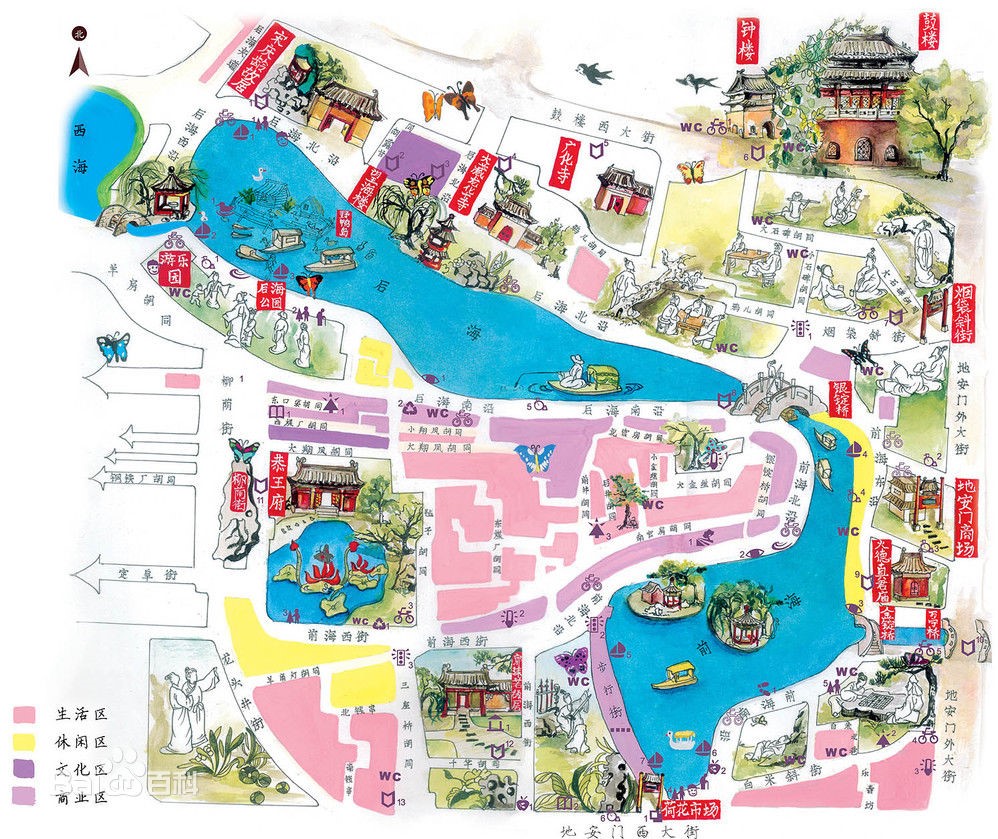 Take a brisk walk along the shore, and delight in the cultural wonders of the ancient capital – relics, architecture, amidst live music in bars and restaurants.
Walking Tour
Start: Subway Line 8 Shichahai Stn
Reason: Bell Tower and Drum Tower, Center of Town
On exit, the scarlet red Drum Tower pops into site, a reminder of the ephemeral nature of most other things we're to encounter. A few steps just north is Yan Dai Xie Jie (Slanted Smoking Pipe Street), through which are the Shichaihai lakes. Nearby are plenty of dining options, of both Eastern and Western. If travelling in the morning, get some breakfast here before trailing forward. The adventurous palate may try some quintessential Beijing fried liver at Yao's Fried Pork Liver on the south east corner of Drum Tower. This place is adored by locals from the neighborhood, though service may not be on par with the food.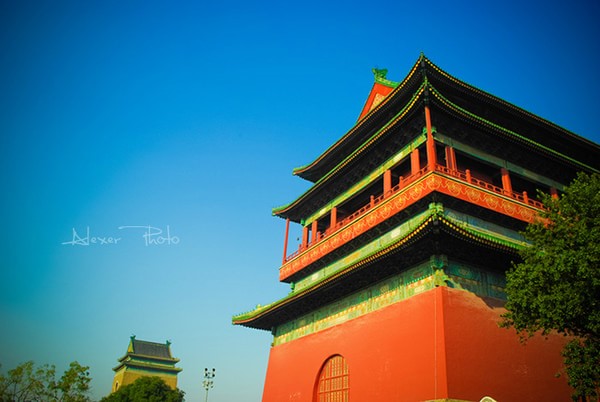 First stop: Yan Dai Xie Jie (Slanted Smoking Pipe St.) on way to Yin Ding Qiao (Silver Ingot Bridge)
Slanted Smoking Pipe St. is one of first "slanted" streets in Beijing – as Beijing is very much a grid, few streets diverge from the horizontal or vertical. Only 300 meters long – back in the days, hobbyist who indulged in raising exotic birds lingered there. They were usually the same people who enjoyed smoking, the main business of the original shops the street – tobacco related paraphernalia. Hence its given name. Slanted Smoking Pipe Street one of the oldest commercial and cultural communities in Beijing.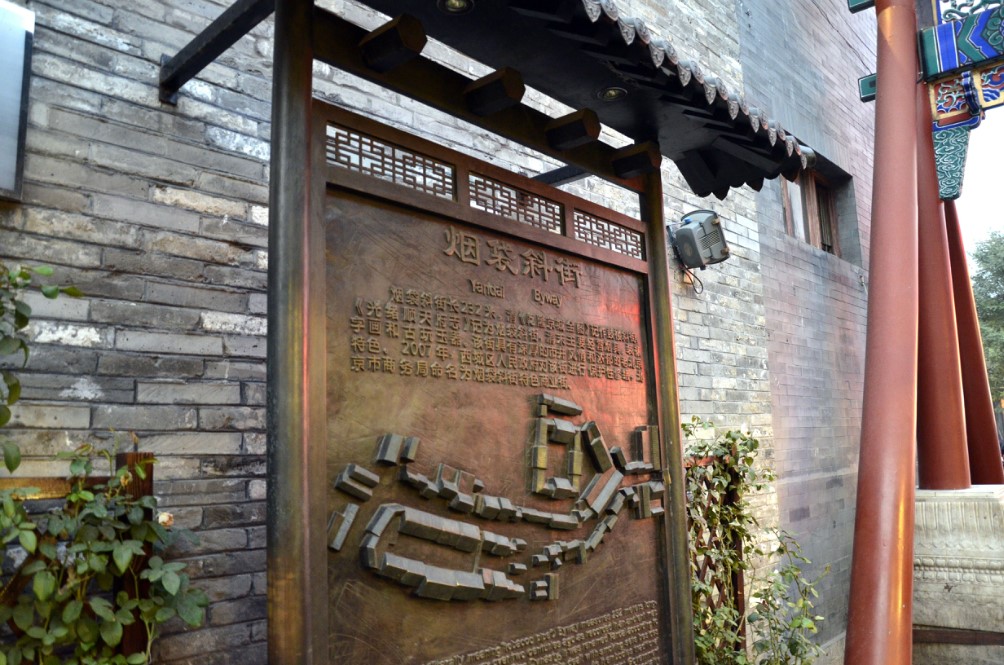 Today, Yan Dai Xie Jie amassed a motley assortment of merchants who showcase arts of crafts of the Older Beijing, such as embroidered shoes and clothes. If you look closely, interesting things are here and there. Shops on the street often have one of a kind décor – not a bad idea to slow to a window-shopping pace here.
Midsection on the north side of the street is Guang Fu Guan, a Taoist temple built in the Ming Dynasty (1459). It served as imperial management for all Taoists under the sun, open to the public since 2008.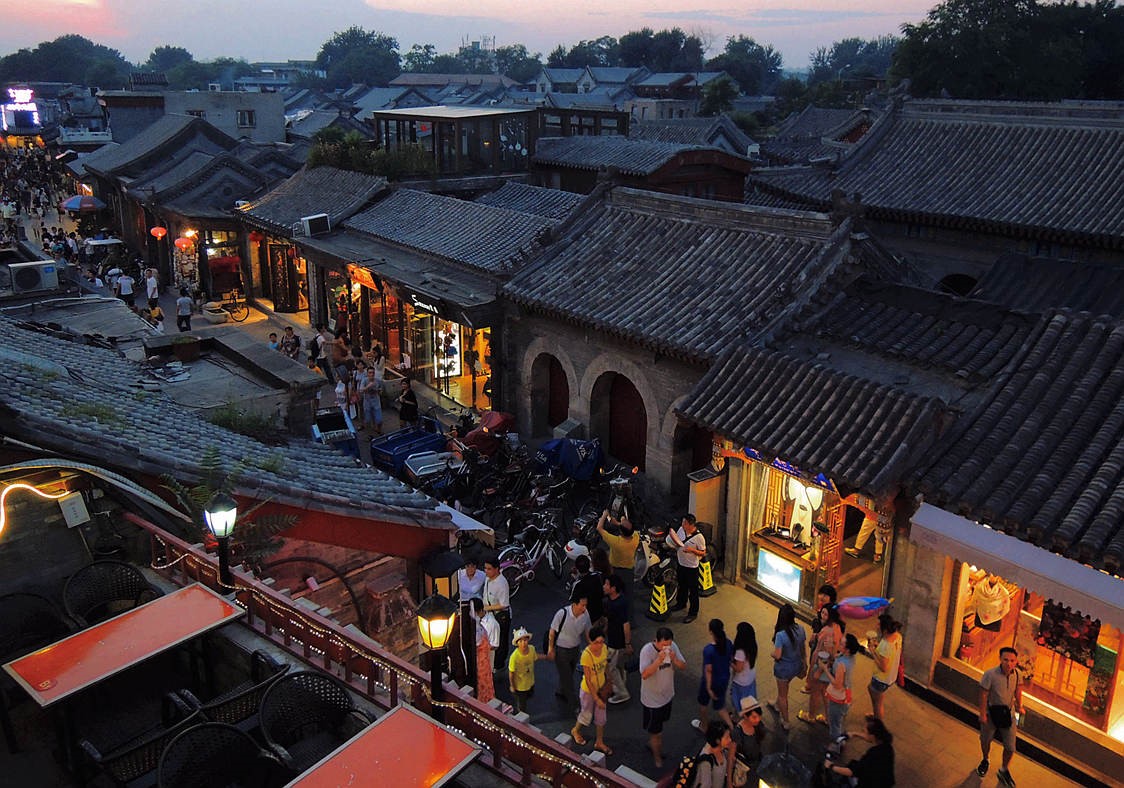 Second Stop: Yin Ding Qiao (Silver Ingot Bridge) – North Hou Hai, West Side
Yin Ding Qiao is not large, yet comes from eminence. It was built in the Ming Dynasty, over 500 years ago. The dreamy scenery of Shichahai has for centuries attracted, among others with refined taste, literati to this spot.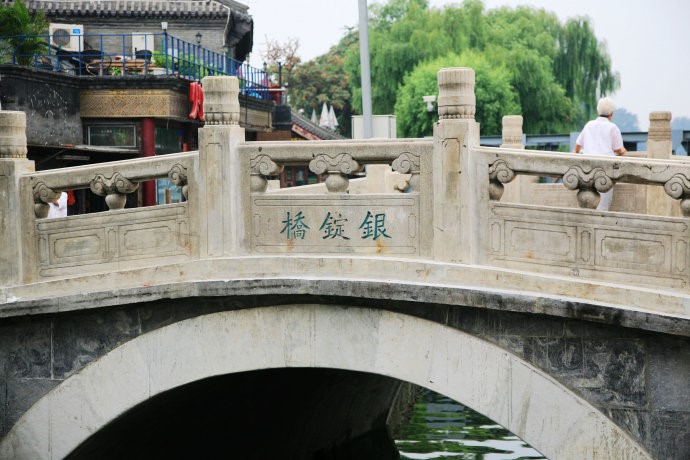 The view from Silver Ingot bridge exudes an calming aura of oriental harmony. With a perfect balance of architecture, greenery, mountain and open water features, this particular perspective is hailed as one of the Eight Delicate Views of Beijing, called the "Silver Ingot Mountain View".
Present day this little bridge is often crowded with tourists, the food stands in the near vicinity are somewhat overpriced with lack luster quality.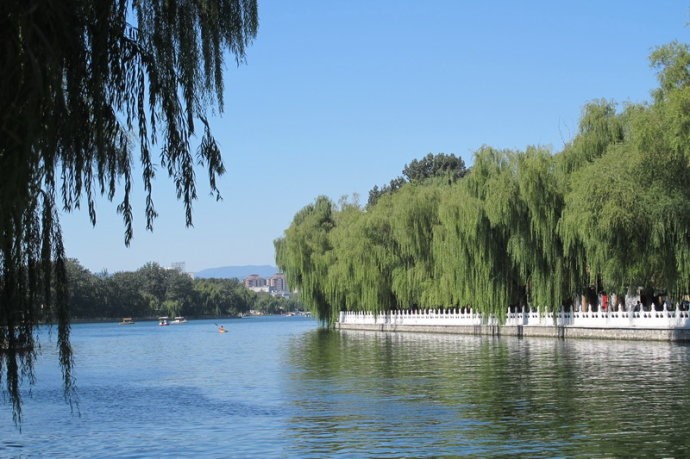 Not to cross yet. Walking along the north shore towards the west, where people are comparatively more sparse, in good weather, you might encounter the local elderly fishing, playing cards, or even taking a dip in the water. Winter swimmers also gather here to satisfy their compulsion. A little further down, the last residence of the beloved Former First Lady Song Qingling is available for viewing all year around. Also on the way is a former noble mansion The Prince Chun Mansion, also known as the Northern Mansion. Unfortunately, this courtyard mansion now functions as an administrator for religious affairs, no long available to the public.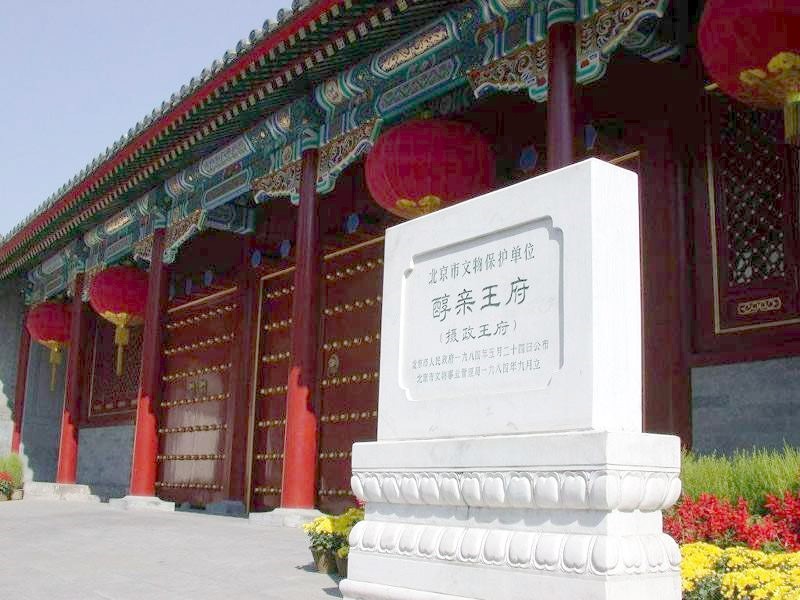 Song Qing Ling's Former Residence
North Shore of Shichahai, with a classical garden residence with all the Ying-Yang Balance of rockery, water features, winding passageways, a perfect spot for a hermitic life with an amazing view from the front gates.
Prior to Song, the estate was the garden of imperial nobles. Apparently, verses of Qing Dynasty's the most eminent poet also burgeoned here.
Opening hours: 09:00 – 17:30
Ticket Price: 20 RMB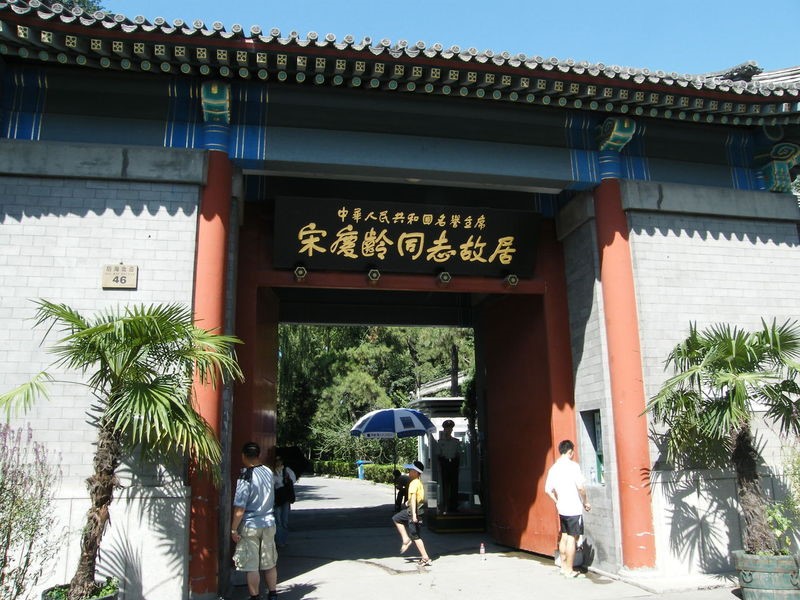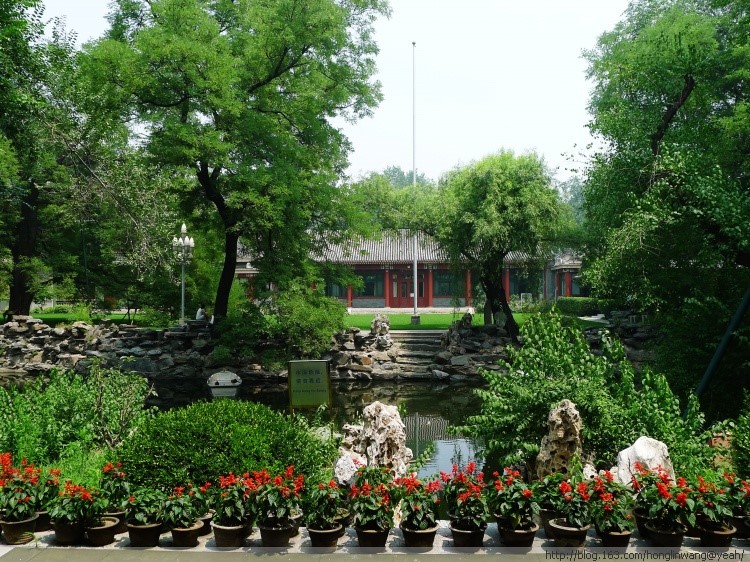 Third Stop: Hou Hai South Shore – Prince Gong Mansion
Looping back along the south shore, eastbound, water front and covered by canopies, garden and tea houses on the right. The renowned Kong Yi Ji Restaurant is nearby. They serve food from the Yangtze Delta. Enjoy some lakeside dining here, starting with some Hui Xiang Dou (aniseed seasoned beans) over some Hua Diao Wine (dark Shaoxing rice wine).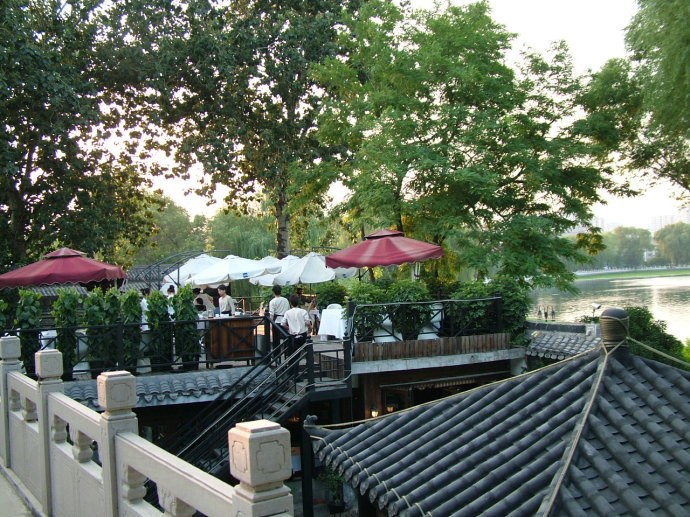 Locals often chill in Hou Hai Park, a few paces further east, next to a ferry dock. Walk through Hou Hai Park and find Yangfang Hutong, then to the east 100 meters, turning right at Liu Yin Street. To the south 400 meters is the the most extravagant stop on this tour – Prince Gong's Mansion, built in the 18th century by the fabulously corrupt eunuch He Shen.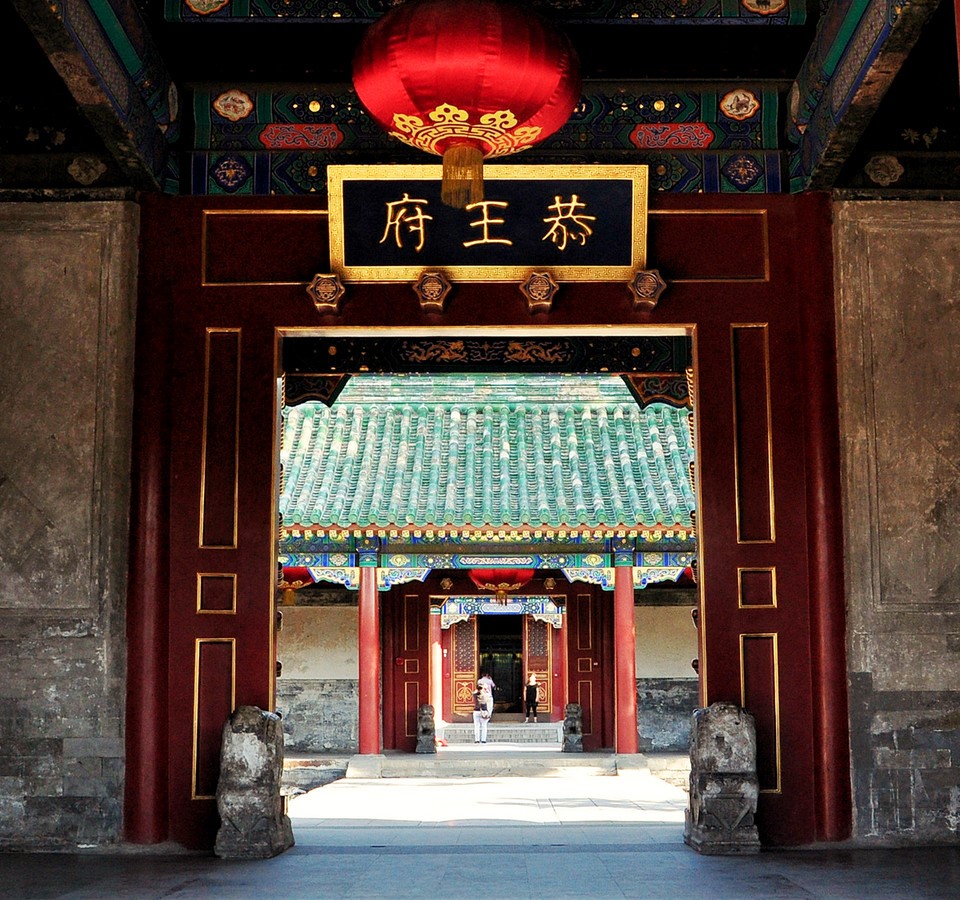 Prince Kung's Mansion is on the south west of Shichaihai, on an undisturbed aisle of the imperial landscape, lush with willows. After enjoying a few centuries of prestige, it's still the best preserved among estates of its kind.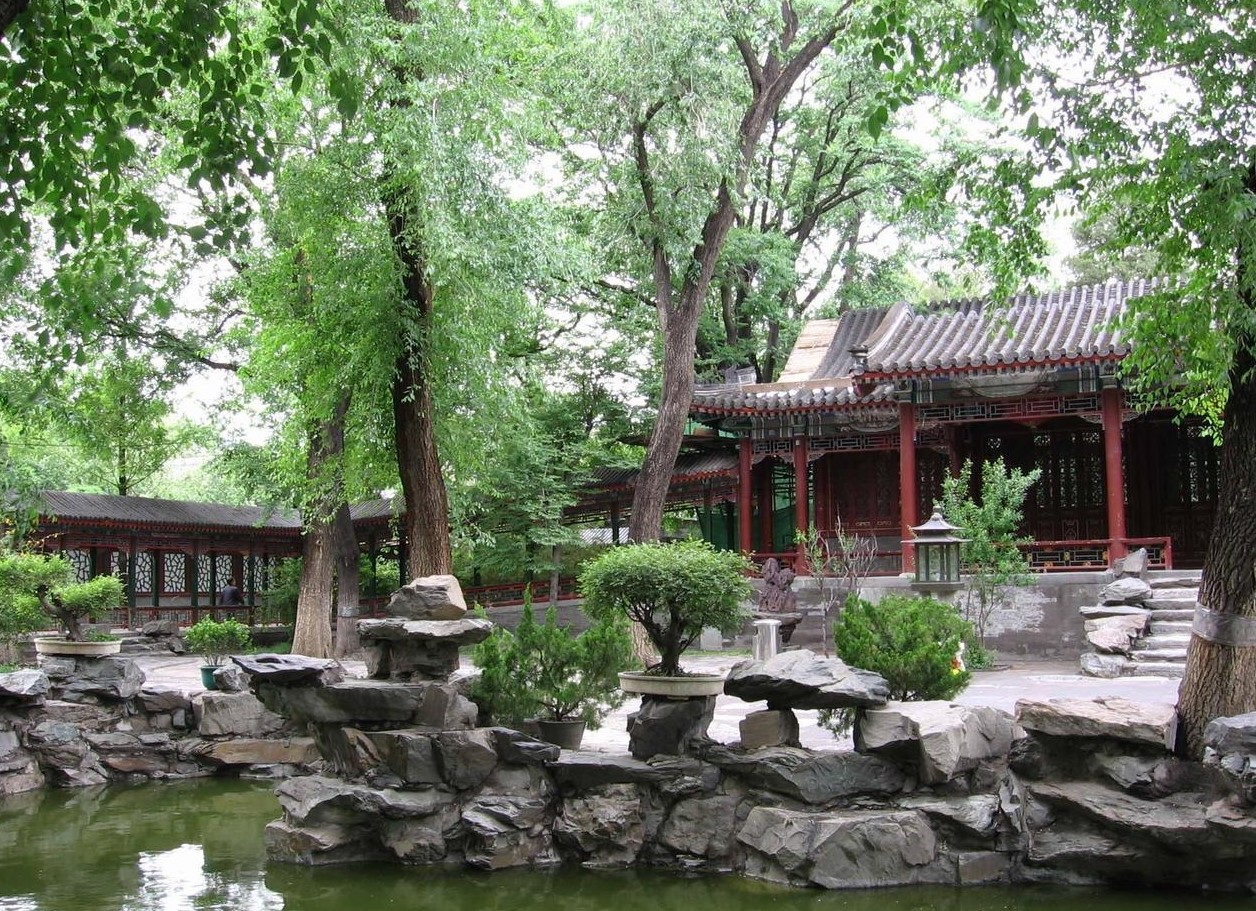 The mansion is partitioned into a residence and a garden. Constructed using the most upscale materials of the time, the residence sits on generous grounds, with a formation composed of multiple courtyards precisely aligned in three columns. Among these is a particularly lavish building called Xi Jin Zhai, adorned with ornaments such as an exquisitely sculpted Chinese wall made from the precious wood Phoebe Nees, a setup modeled after palatial standards.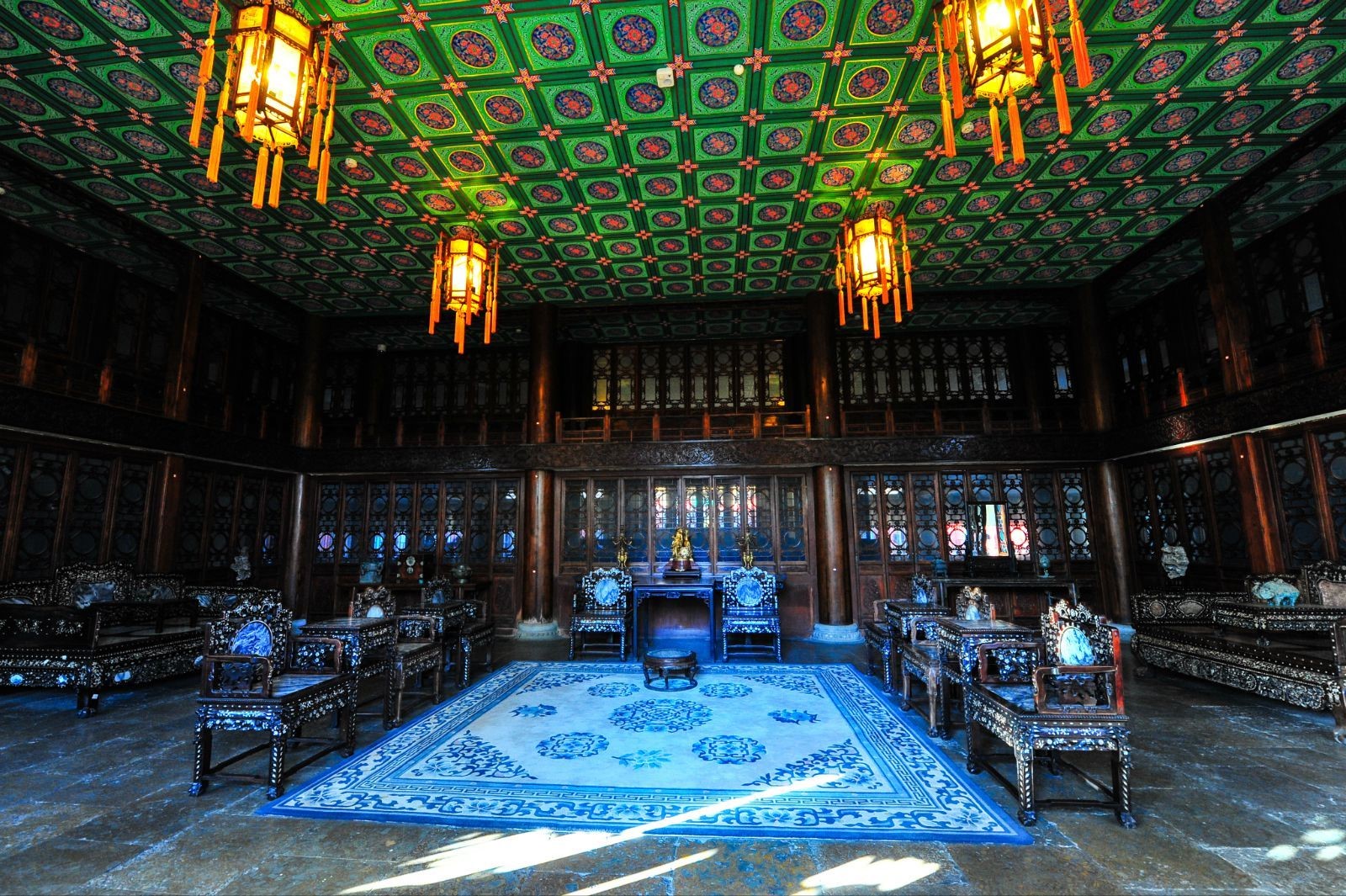 The garden is juxtaposed thoughtfully next to the residence, also in an three column formation, the center of which is prefaced with a Western styled stone arch entrance. The center garden features peculiar rocks, a pool shaped in the shape of bat, long covered walkways, all of which justified by traditions, superstitions or auspicious homophonic elements. The east garden spotlights a theatre, impressively renovated to exquisite grandeur. In this room, an audience was to enjoy a performance under blossoming wisteria. Other classical Chinese garden are also featured: winding walkways, pavilions, "garden within garden", rocks, large trees, and waters.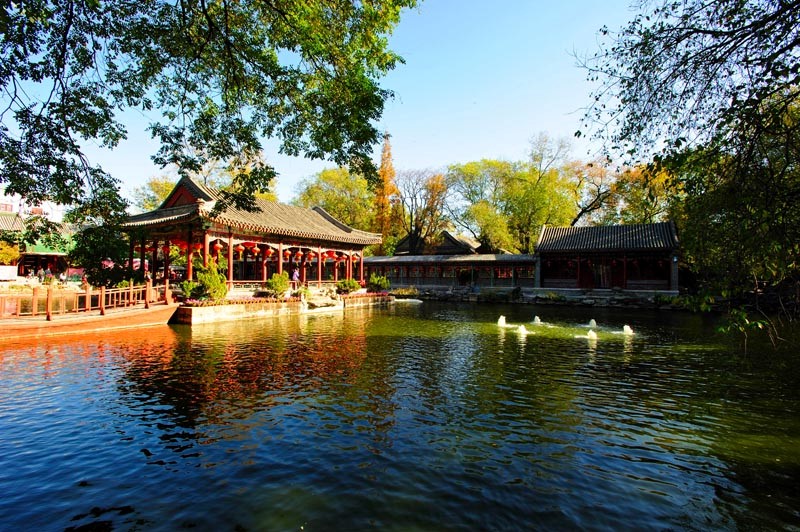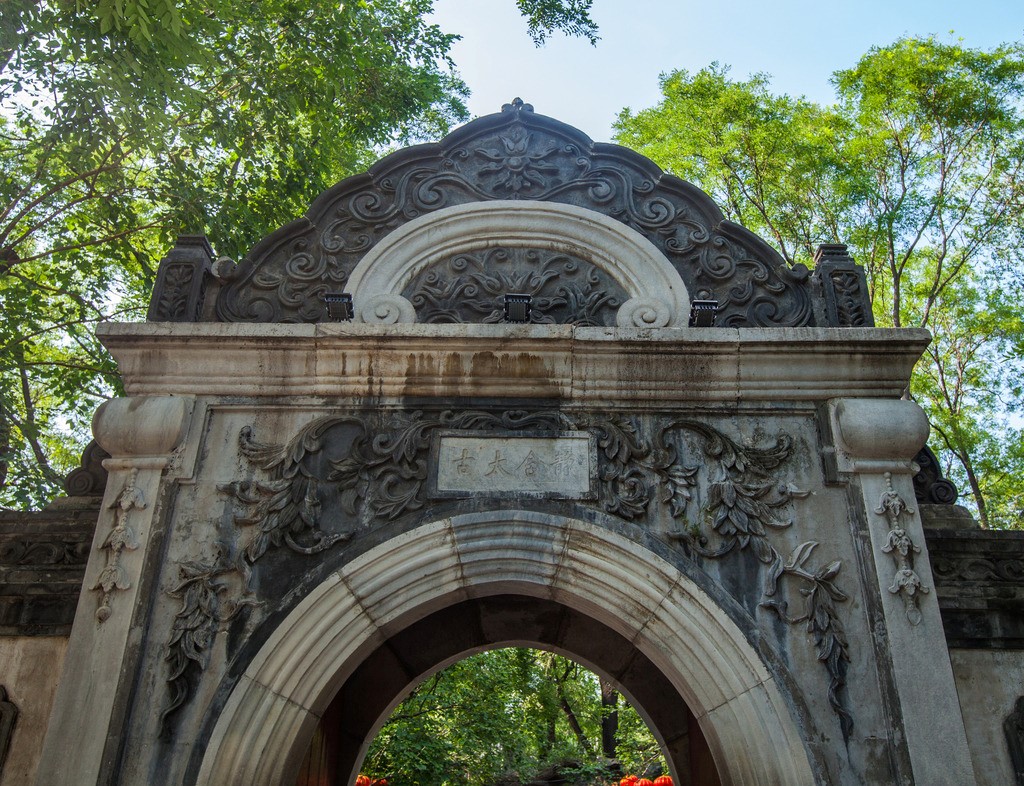 Fourth Stop: Barbecue in Hutong at Kaorouji Restaurant
Exiting Prince Gong Mansion and heading east, a 15 minute walk passing by scholar Guo Moruo's former residence, through Nan Guan Fang Hutong and Goldfish Hutong, leads us back to Silver Ingot Bridge. Embedded within these hutongs are many courtyards, home to local residents living the original Beijing live albeit in the middle of the city. Kao Rou Ji ("Barbecue Season") is the most well known restaurant in Shichahai – would be about lunch time if you started in the morning. Kaorouji is right next to Silver Ingot Bridge, established in 1848, featuring traditional Beijing styled barbecue.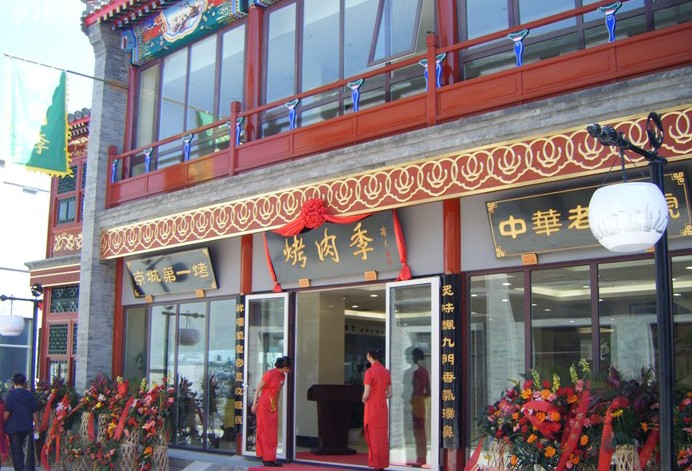 Kao Rou Ji uses the best cuts from a breed of black headed, curly tailed sheep west of Zhangjiakou, Hebei Province, usually only the high rib, tenderloin, and filet mignon. Thinly sliced with a specially designed long and heavy knife, then seasoned with soy an shrimp sauce, aromatics oils, ginger juice, vinegar, and grilled on a classic Beijing grill with Julienned onions, usually over wood from a fruit bearing tree. The meat is egg-washed repeatedly during cooking to preserve tenderness and moisture, then served with chiffonade of fresh coriander. The choice of ingredients and technique suppress the gamey flavor and brings out the best of lamb meat to be savored.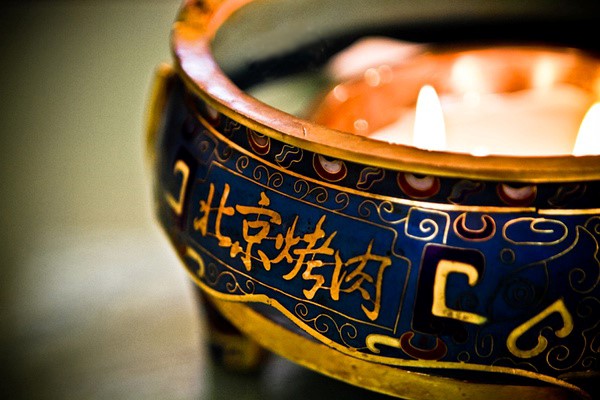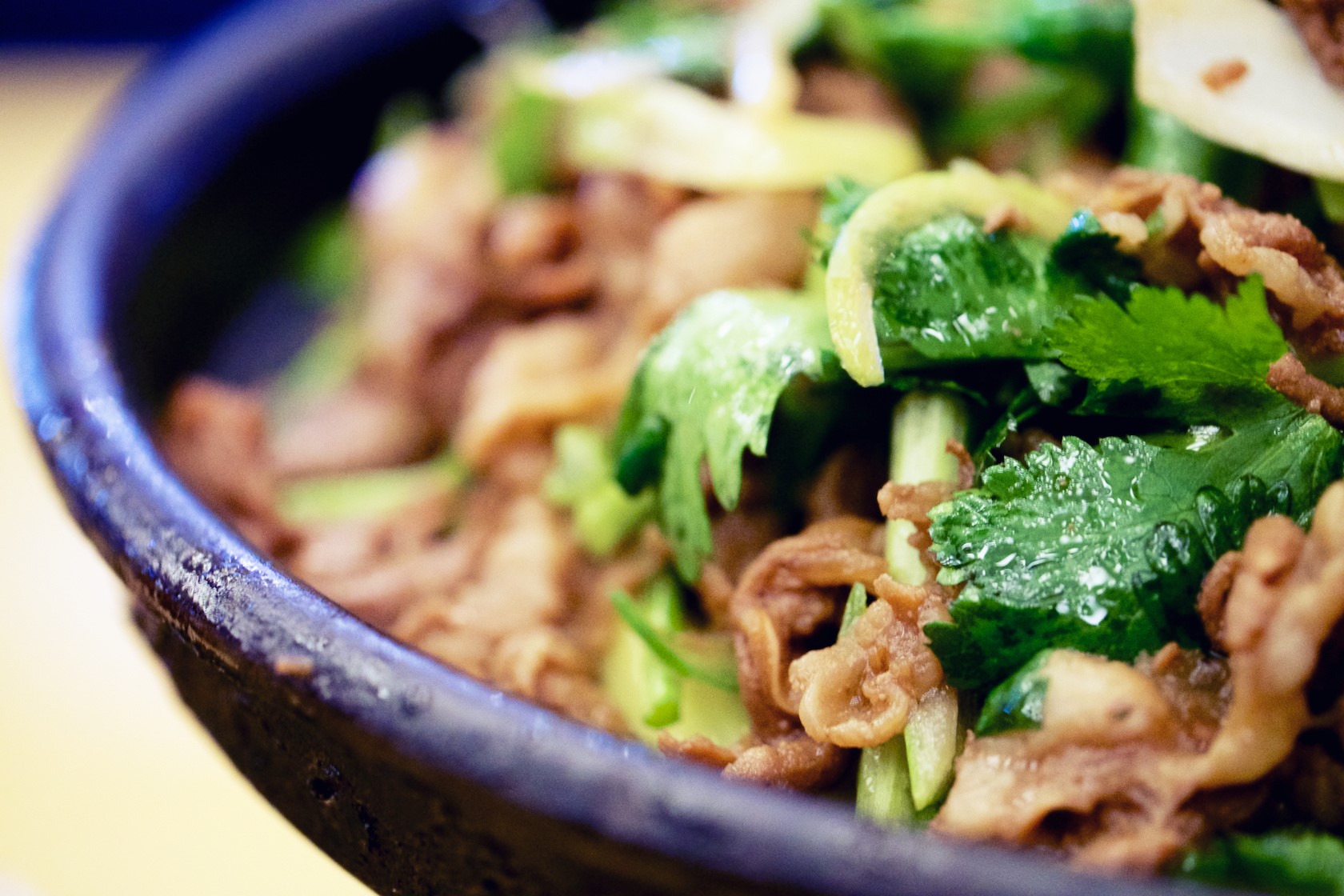 ### Fifth Stop: Front Sea, south east shore – Lotus Market After lunch, follow the shoreline southbound toward the Lotus Market, passing by Huo De Zhen Jun Temple (Taoist), and Jin Ding Qiao (Gold Ingot Bridge). In the right season the quintessential oriental lake-scape with willow trees and lotus will help you escape the afternoon.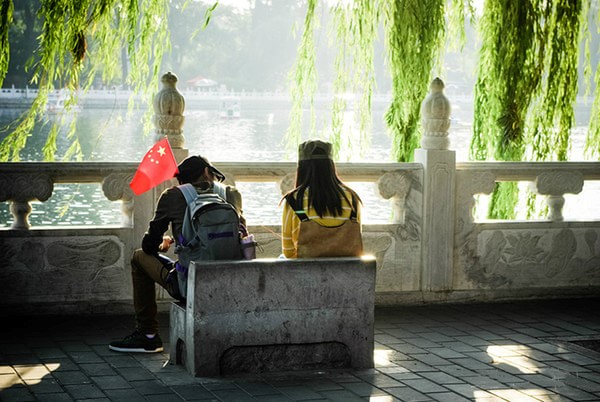 Over a century ago, the Lotus Market was a already a relaxing go-to for Beijingers. Today it is ever so popular, especially at night. The bar scene here is a hodgepodge of various nightlife.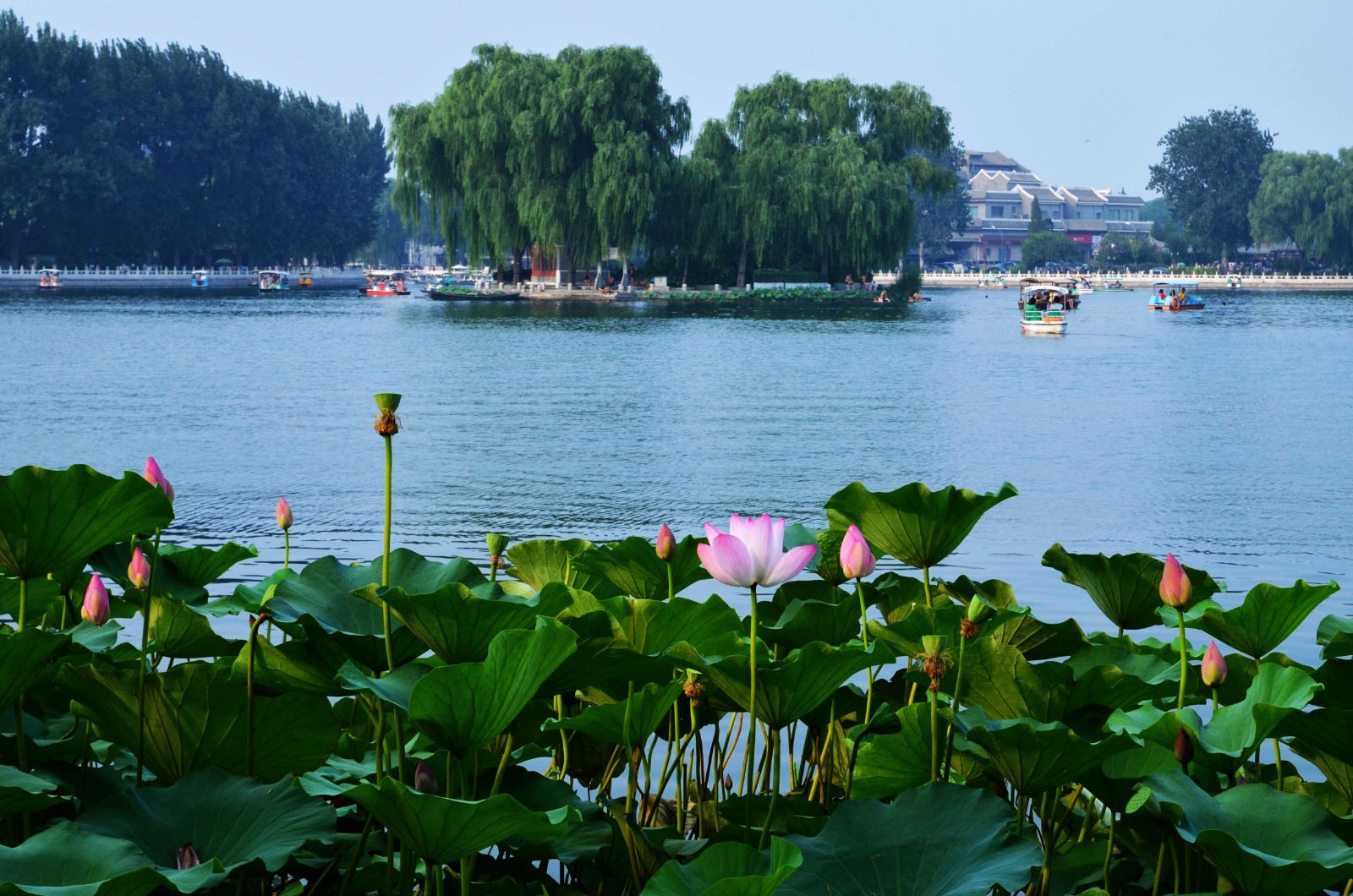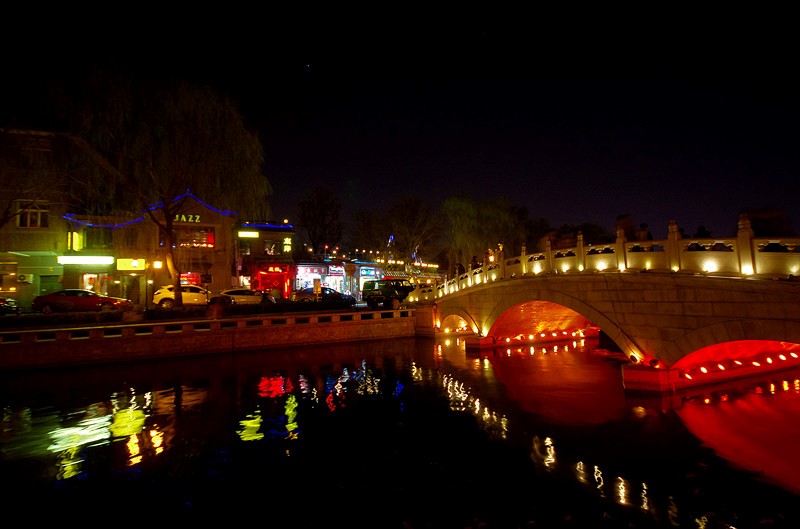 Hotel
### Shichahai Shadow Art Hotel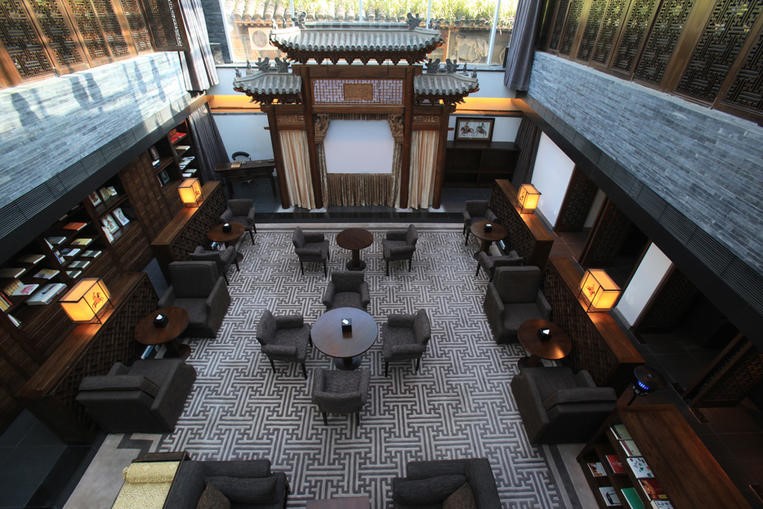 Shichahai Shadow Art Hotel is on Song She Jie (Pine Street), next to Prince Gong's Mansion, about 5 minutes walk to the lake. A Taiwanese company called The One is behind the boutique courtyard design, featuring a consonant blend of modernity and traditional elements.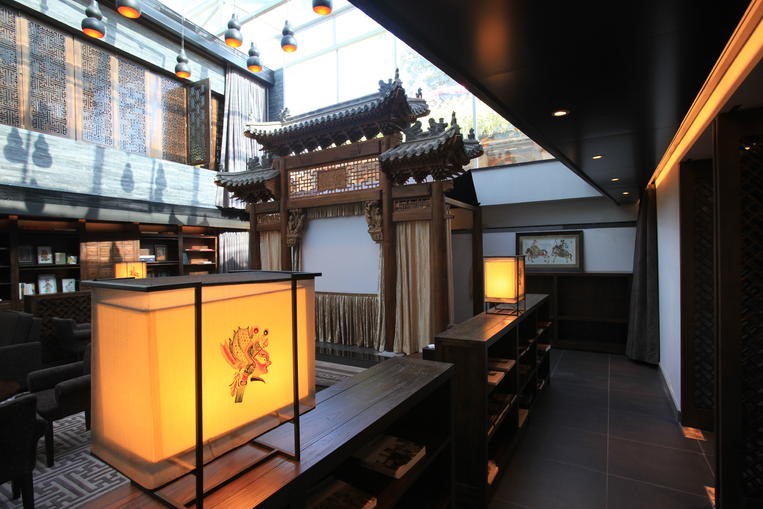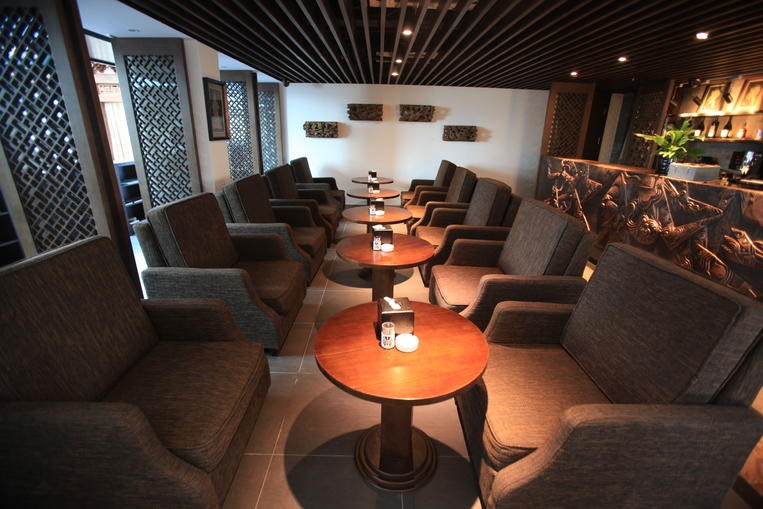 A pine tree and two caricatures engraved on the grand lighting fixture in the hotel concourse is a cue for the theme of the hotel – Chinese Shadow Art.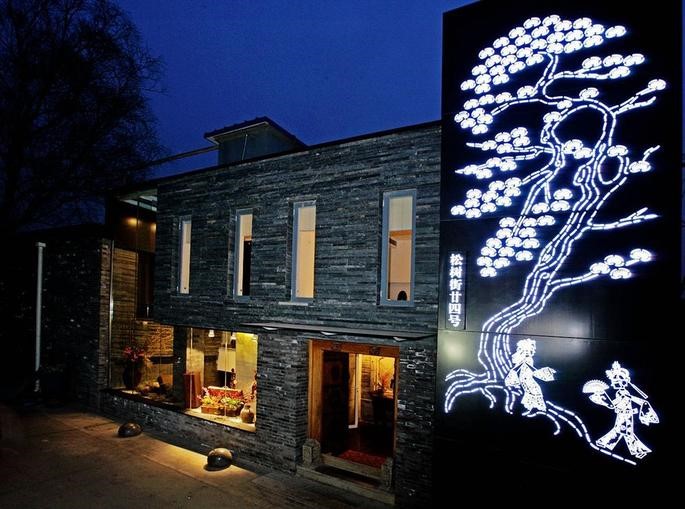 Shadow Art is a classic folk puppet shows consisting of shadows cast on a caricatures made from thin layers of leather, with storyline, music, voice acting. The hotel offers free classes every Monday, Wednesday and Friday. Tuesdays, Thursday and Fridays are performance nights, also free for guests.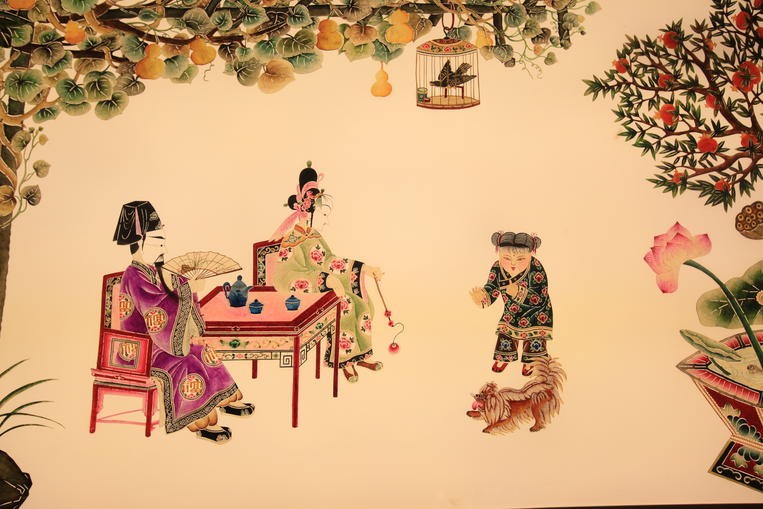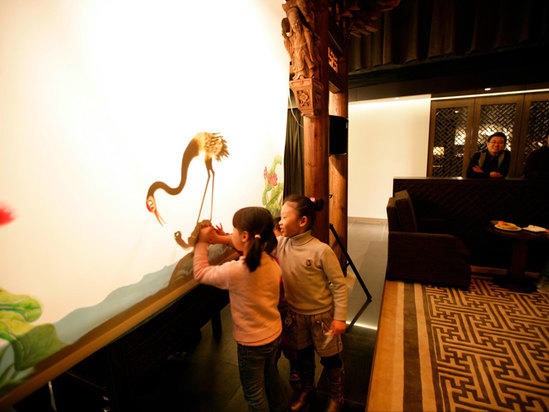 Shadow Art Hotel has 25 rooms, aptly named after character types in traditional shadow puppetry. The prevailing use lighting and shadows is a central design theme throughout the property. For example, the breakfast area and the lounge is divided by a doors with specially designed cultural motifs. On first light, patterned shadows are cast upon the room, adding to the cultural experience.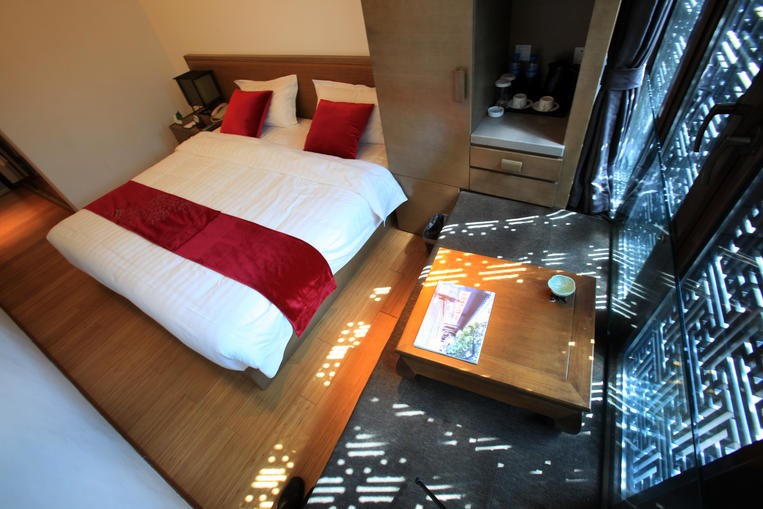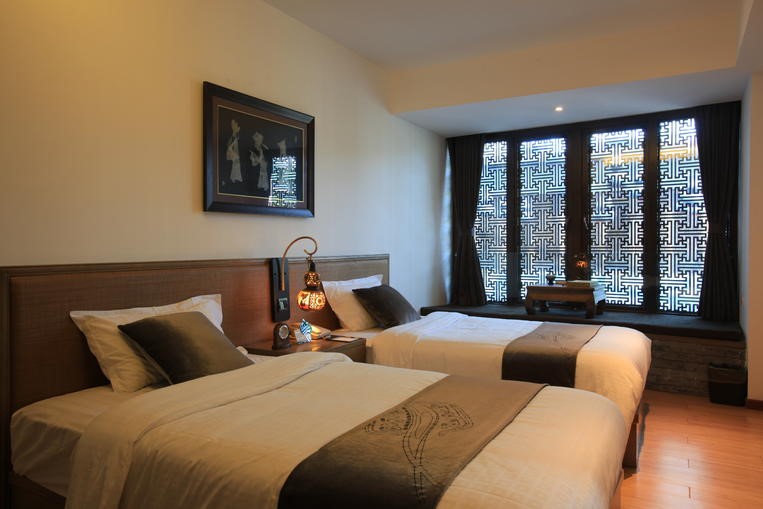 The Shadow Art Performance Hotel is banquet ready featuring Hakka dining, and also offers local tours such as rickshaw hutong tours and boat tour with dining.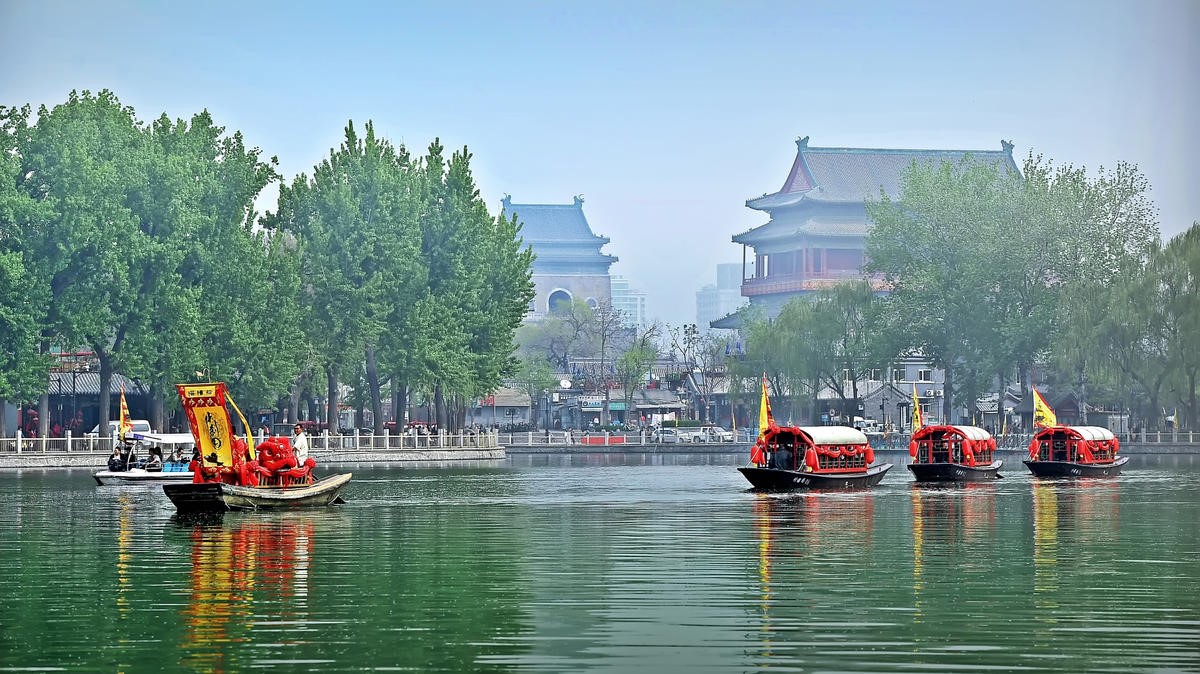 Address: No. 24, Pine St. (Songshu St.), Xicheng District, Beijing
Tel: 010 83287846/ 83287847
Website: www.sch-hotel.com
(Photo source: internet)